By Cory Stahle, Regional Economist
A recently released report from real estate firm Cushman & Wakefield | Commerce, describes a record breaking construction trend occurring around the border of Salt Lake and Utah counties. In the past decade, the entirety of Salt Lake County and northern Utah County (900 plus square miles) have averaged less than one million square feet of new office construction annually. Over the past nine months this annual average has been dwarfed by a five square-mile area along I-15 between Draper and Lehi. With nearly two million square feet of new commercial construction projects underway, primarily in behalf of technology companies, the area is being coined by some as Utah's "Tech-Highway." A visual of the growth in construction is illustrated in the following image: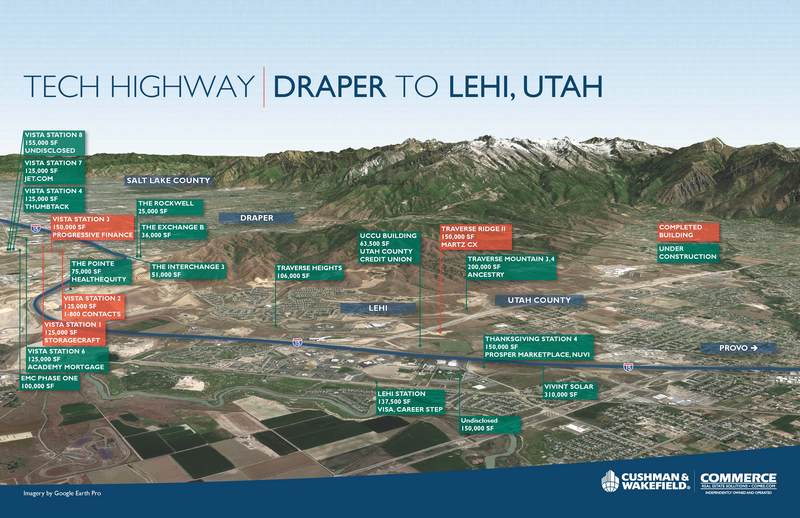 Image Property of: Cushman & Wakefield | Commerce
Construction is a driver and manifestation of the economic growth occurring in the Salt Lake City and Provo metropolitan areas. With a combined job growth rate of 4.2 percent from June 2014 to June 2015, Utah and Salt Lake counties are seeing significant increases in the number of jobs available. A significant portion of these job gains, in line with the Cushman report findings, are occurring in professional/technical service occupations and in construction. In comparing June 2015 to the previous year, nearly 14 percent of total job gains in Utah and Salt Lake counties were in professional/technical fields. Similarly, construction accounted for 10.8 percent of jobs in the two counties during the same period.
According to the
report from real estate firm Cushman & Wakefield | Commerce, there are several reasons why businesses may be choosing the Tech-Highway as a location for expansion or relocation. Among these are lower business and living costs relative to areas like San Francisco and the Bay Area, the allure of workforce interconnectivity through mass transit, and the State of Utah's high economic expansion rankings relative to the United States.
The report also included a list of the businesses settling along the "Tech-Highway" and their objectives, which include:
o
EMC
anticipates creating an additional 700 jobs, currently constructing 100,000 square feet of expansion space at Vista Station.
o
Prosper Marketplace
plans to create an additional 500 jobs. They currently lease space in Draper while awaiting completion of their new 150,000 square-foot expansion in Lehi's Thanksgiving Station 4.
o
MaritzCX
is expanding in Lehi, expecting to add an additional 425 jobs.
o
Thumbtack
is a Bay-Area company that settled in Draper to grow their staff to 300 soon.
o
Jet.com
is a New Jersey based, e-commerce start-up expanding its member services group into 75,000 square feet of preleased space in Draper.
o
Vivint Solar
is undergoing a massive expansion, planning for as many as 3,000 new Utah employees.
o
Academy Mortgage
is relocating from Sandy to Draper, continuing Utah's employment growth.
o
Ancestry
is moving its headquarters from Provo to Lehi, seeking broader access to the area's growing talent pool. Ancestry's 200,000 square-feet project will complete construction next year.
Image: Cushman & Wakefield | Commerce